MUST ASK THEIR PROPERTY MANAGER
How long has the management been in business managing vacation rentals and what is their track record?

Be sure to ask if they have local staff to care for your home and vacationing
guests.
Ask when payments are made to the owner and do they have a record of
paying statement balances on time.
How many guest reservations have they completed over the last year?
What is their star rating on vacation rental sites like AirBnb, Homeaway, VRBO, and Trip Advisor?

How would they keep your home secure?

How often do they perform physical inspections when the home is not rented? In Park City there are long stretches between summer and winter when your home may be vacant.
Is access to your home controlled through an audit capable lock? Cleaners, contractors, inspectors, HOA's and staff should have unique codes that track who entered the property and when. Each guest should receive a unique access code that activates the day of check-in and expires at the time of check-out. This prevents overstays and guests returning later creating unnecessary risk.
How does the manager monitor your home to watch for parties that can damage your home or create a menace to neighbors? There are available technologies that can monitor guest activity in your home without infringing on privacy. Noisy guests are the number one complain of neighbors and HOA's sometimes will fine homeowners for noise policy violations.
Water leaks cause more property damage than fire and theft combined. Systems are available to monitor water flow in your home and automatically shut off the water in case of a broken pipe.

How will the home be maintained?

Typically, a home needs a full inspection every year in the Spring and the Fall. All mechanical systems need to be checked and the owner needs to be notified of any potential issues that need to be addressed. It is far better to keep the home's systems in good working order and avoid an emergency later.
Does the manager use in house or outside contractors? Many times, use of outside contractors is a superior solution where an expert can be deployed vs staff generalists. Also, contractors are likely less expensive in the long run because you only pay for them when needed. Always ask the rate for typical services and service calls.
How is the home cleaned after a guest reservation?

Does the manager use in house cleaners or contractors? Managing cleaning staff in season is very challenging particularly in Park City where unemployment is low and labor costs are high. If in house employees are used are there background checks conducted? Are they bonded and insured? Similar questions should be asked if contractors are used but also inquire about the number of staff available to handle workload during peak seasons.
Often there are back to back reservations during season where the home must be cleaned from a departing guest in the morning to prepare for another arrival in the afternoon. Ask for an explanation of how this type of situation is handled to ensure the property is cleaned on time.
The quality of amenities is important to guests. Ask to see a list of the items stocked in the unit prior to arrival of each guest. Insufficient or cheap looking supplies give the guest the impression that you are a cheap operation cutting corners in this area leaves a bad impression.
According to research linens are very important to visiting guests. Ask your manager about providing good quality sheets and towels for guest use. Linens are a significant expense in setting up your home for rental. Be sure to ask options available and understand the cost of linens that will be required to manage your home as a vacation rental. Durability is also important so be sure to ask when replacement may be necessary. Also ask about linen rental as an option.

How will the home be marketed to attract guests?

In the past simply purchasing an ad on major vacation rental portals like VRBO, HomeAway and losing on AirBnb was sufficient. Today marketing has become much more sophisticated in the competitive Park City market. If simply listing your home on major portals is the approach to market your home it will likely underperform in terms of rental revenue. Much more is required today to display your property where vacationers are searching for a rental.
Does the property manager know what is necessary to achieve high page placement on major vacation rental portal sites? HomeAway/VRBO has a different formula than AirBnb as do all the portals. Ask you manager if they understand the requirements and if they have a way for their operating system to feed information to the portal that will improve page placement. If your listing is not near the top of search results chances of being seen by the inquiring traveler drop significantly.
Ask the manager if the software used provides inquiring guests live real time information. Vacationers are no longer content to send an email and wait for a response. Real time API connections allow the traveler to instantly reserve the home making the transaction friction free.
Ask the manager to describe the sales funnel used after a potential guest inquires. Research shows that on average a guest views the listing multiple times before making a decision to book. The sales funnel is a structured way to reconnect with the guest to maximize results.
Inquire about retargeting in their marketing practice. This tactic sets a cookie on the inquiring user's computer and sends targeted ads at timed intervals in the future. This marketing technique is used by the best marketers to secure bookings.
Search Engine Optimization has been a buzz term for the last few years. Everyone says that they perform SEO but the challenge is that the algorithm is constantly changing. Ask your manager to describe the team of engineers that maintain SEO in their operating system and if they work full time on SOE or occasionally refresh the code. The dynamic evolution of SEO requirements requires considerable and frequent effort. This could be a combination of in-house programmers and outsourced resource.
Ask how the management company invests in social media engagement. Facebook, Pinterest, and Twitter have become important supporting marketing elements when a traveler is inquiring about a vacation destination and their influence is on the rise.
Ask how they would determine rental rates for your home. Vacation rental portal sites have made it easy to compare rates in the market. The best managers us a comparative pricing system to set rates benchmarked form competitor properties. These systems, modeled after airlines yield management software, allow the best possible price for a given period of time. Inquire about automated filters available to fine tune your property rates for maximum results.

The vacation rental industry is evolving at a rapid pace. How will your management firm keep pace? Look for an organization that is connected to industry leaders that will drive innovation as the business evolves. Also, inquire about their programming staff. The best management companies maintain their own IT teams to make changes to their software to keep pace with the industry.
How much do they charge?

1. The commission rate is the most important element but is just the start.
Ask what services are included in the rate.
Ask what expenses are not included. There are a range of additional items that may be charged as an expense One important expense is post rental cleaning and inspection. Some management companies charge the cost to the owner as an expense with each rental which is a significant expense. Others charge the expense to the guest. Also significant is expense for maintenance in the home. Ask how much is charged for a routine and after-hours service call. If contractors are used is there a markup?
Also ask about all startup costs associated with listing your home for rental.

Ask if you can cancel the management contract?

Most rental companies in Park City operate on annual contracts. However, in the event that you need to cancel you need to understand the fine print in the contract. Look for a flexible contract that allows you to exit the agreement if necessary, without penalties.

What services are offered to prepare your home for marketing and rental and what are the costs?

Staging the home with color helps present your home in the most positive manner. Ask how the rental manager will help prepare the home for photographs.
Professional photography is essential. Pros know how to use the best possible angles to present your homes features and have the software to process images that are bright and clear.
3D imaging from Matterport or similar providers gives the potential guest a virtual tour of your home. This popular feature is growing in popularity and professional management companies offer this service to all homeowners.
Ask how descriptions are written.
Emphasize any unique features/ amenities in your home.
Ask the management company for an honest evaluation of the condition of your unit compared to other homes in the area. Ask your manager for their professional opinion of steps necessary to make your home as competitive as possible. Inquire about services they offer to perform a decor upgrade or renovation if necessary.

In Park City vacation rental home inventory is growing rapidly. How will you make my home stand out in a highly competitive market?

Often owners have designed their home for their personal comfort. A trained vacation professional will evaluate your home to determine features that appeal to travelers.
Expert vacation rental professionals can recommend features that make your home distinctive using your budget.

← Read Previous
Free Fun Program: iTrip Vacations and Xplorie Provide Activities to Guests
Categories: holidays, itpark, Trip, vacation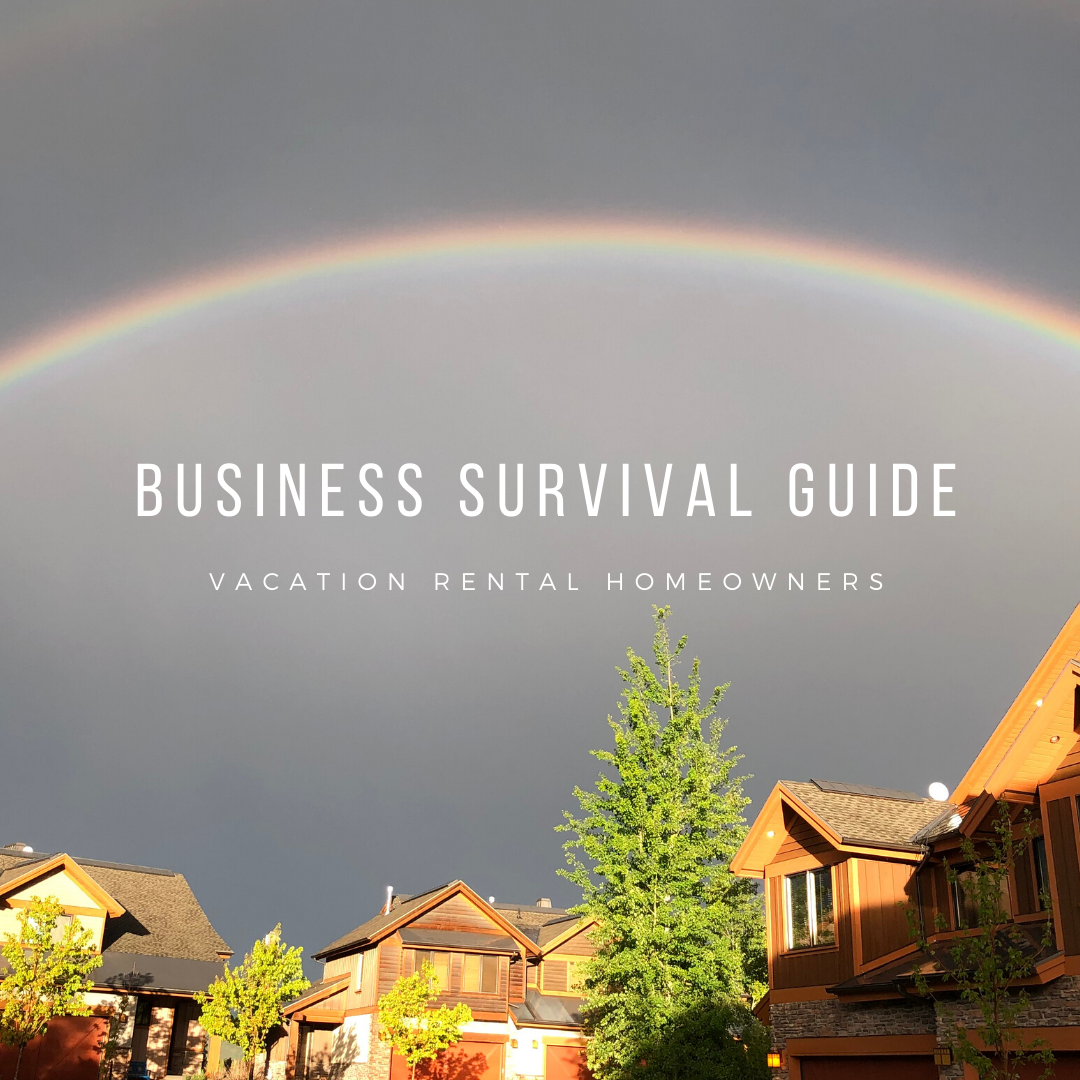 Read Next →
COVID-19 Business Survival Guide for Vacation Homeowners 
Categories: COVID19businesssurvivalguide, itripparkcity, itripvacations, vacationhomeowners, vacationrentals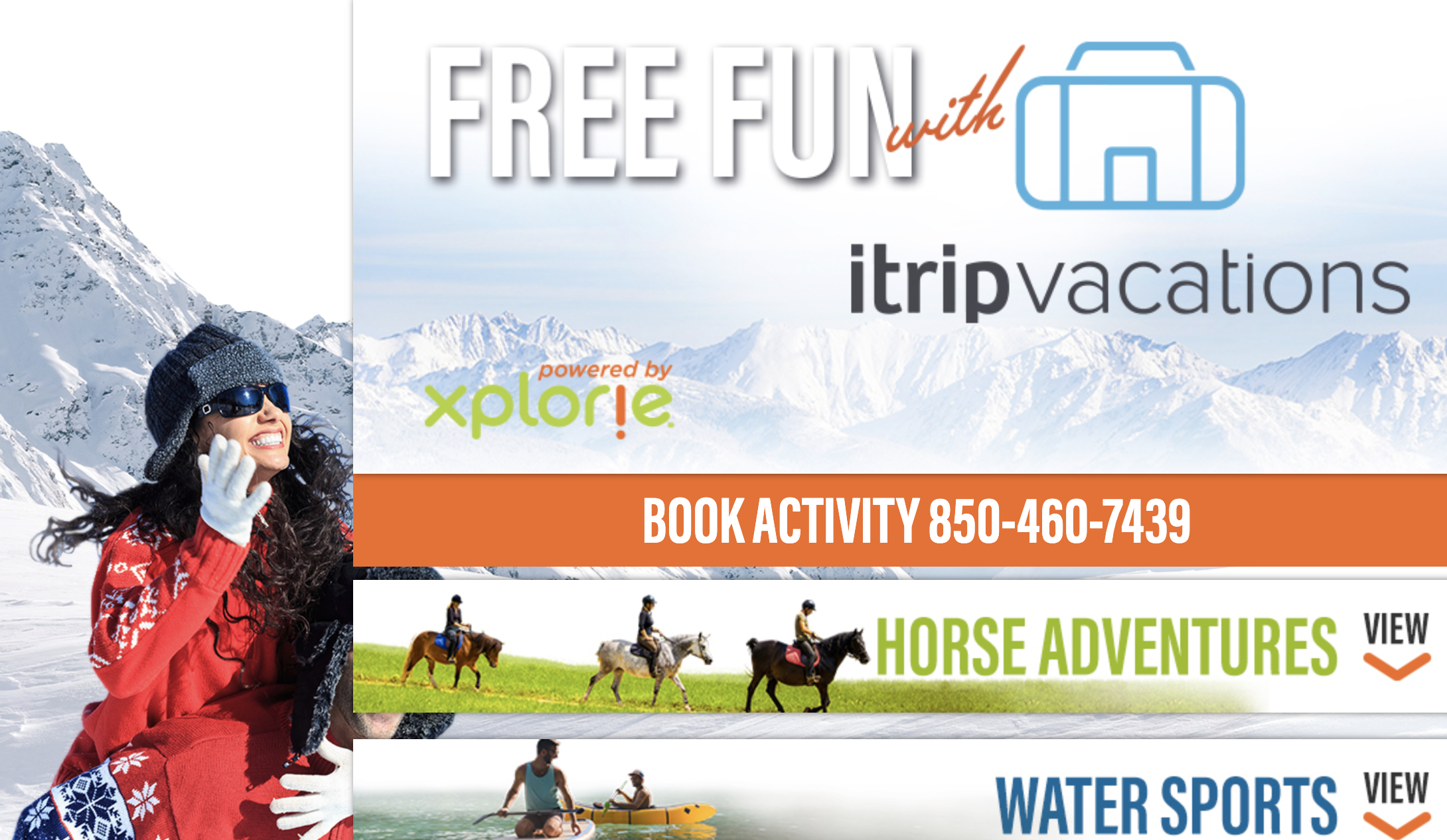 In 2016, iTrip Vacations and Xplorie partnered to bring free fun to guests who book direct with iTrip Vacations. Today, over 20 destinations offer the program, helping vacationers save as much as $400 per day on popular activities and attractions. Check out the most recent activities available here. 
Here's a detailed look at the iTrip Free Fun Program:
iTrip Free Fun Program: What Guests Receive and Where
What is Free Fun with iTrip Vacations?
The free fun program is powered by Xplorie, a company that partners with vacation rental providers to offer free activities to guests. When guests book with an Xplorie partner, they receive free daily access to popular area attractions and activities. These admissions also renew every day, so guests can experience everything at a more affordable cost.
"Xplorie has proven to be a great asset in our Smoky Mountain Market," says Dennis Stark, iTrip Vacations Gatlinburg-Pigeon Forge. "Our guests appreciate the variety of activities offered and how those activities enhance their vacation experience. The staff at Xplorie does an excellent job of taking care of our guests throughout the process."
iTrip and Xplorie Free Fun Markets
Here's a quick overview of iTrip Vacations destinations that offer Free Fun with Xplorie, and the types of activities included.
30A-South Walton, Florida: bike rentals, free food, paddleboard rentals, movie rentals and golf
Alabama Beaches: movie rentals, escape room, fishing, golf, water cruises
Austin, Texas: escape room, zoo, city tours
Bonita Springs, Florida: jet skis, parasailing, kayak rentals, escape room
Breckenridge, Colorado: mountain bike rentals, sightseeing tours, rafting, sleigh rides, ski package, escape room
Clearwater, Florida: Segway tours, dolphin cruise, bike rentals
Delaware Shores: golf, wine tasting, yoga, escape room, amusement park, bike and paddleboard rentals
Destin, Florida: Segway tours, dolphin cruise and golf
Fort Myers Beach, Florida: parasailing, paddleboard and kayak rentals, pirate cruise
Galveston, Texas: museum, Segway tour, water park
Gatlinburg and Pigeon Forge, Tennessee: laser game, dinner, magic and theatrical shows, Ferris wheel, aquarium
Keystone, Colorado: escape room, paddleboard rentals, sleigh rides
Maui, Hawaii: golf, snorkeling, sailing, whale-watching
Newport Beach, California: SUP/kayak rentals, amusement park, zoo
Ocean City, Maryland: escape room, museum, amusement and water parks
Panama City Beach, Florida: marine park, golf, museums, cruises
Park City, Utah: horseback riding, paddleboard and kayak rentals, rafting, climbing, train ride, ski package, ice skating
St. Augustine, Florida: Ripley's attractions, golf, alligator farm, pirate museum, eco tours
St. Petersburg Beaches, Florida: bike and paddleboard rentals, cruise, movies, museum
Upper Florida Keys: bike rentals, boat tour, snorkeling
How Free Fun Program Increases Property Exposure
In addition to enhancing the guest experience, iTrip's Free Fun Program helps distinguish iTrip properties from similar rentals in the area. The program provides additional perks to guests that they do not receive from other vacation rental management companies and managers. In many destinations, the Free Fun Program is part of a full-service vacation property management that iTrip Vacations offers in over 65 destinations in North America.
"Xplorie's Free Fun program gives us a unique added-value offering that helps set our properties apart from the competition," says Scott Carpenter, iTrip Vacations Newport Beach. "Our guests have the opportunity to add on some fun to an already great vacation, and this leads to better reviews and an overall rental experience that can't be beat. For us and our property owners, it helps our properties stand out, and it shows with increased bookings and revenues."
For more information or to book a vacation rental, contact an iTrip Vacations property manager.
Get an in-depth look at Xplorie and how the company has grown.

← Read Previous
iTrip Vacations Travel App Unveils Enhancements, New Features
Categories: holidays, itpark, Trip, vacation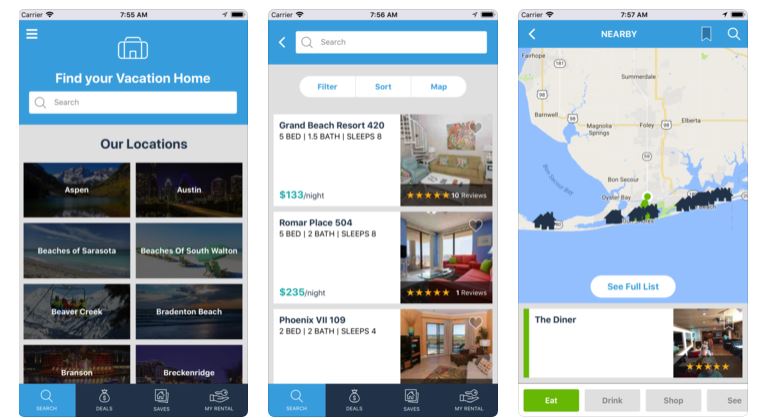 It's no secret that custom apps are here to stay. They provide easy access to information, include relevant information and provide a way for customers to interact with their favorite companies. With this in mind, iTrip Vacations has released a new iTrip Vacations Travel app for Andriod and Apple devices. The app makes it easier for customers to search, save and book their ideal vacation rental accommodations — and find nearby necessities and helpful info while on vacation. Check out the new features.
iTrip Vacations Travel App: New Features, User Experience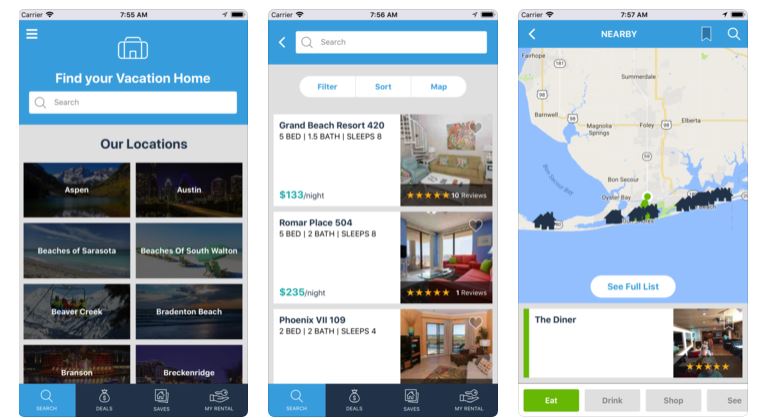 Search, Save, Book Vacation Rentals
Part of the overall search experience, the new design offers an easy way to see all destinations and click on a specific place. Guests now have the ability to search, save and book vacation rentals in one convenient location. The app includes all 60-plus iTrip Vacations destinations, allows users to save their favorites and links directly to a booked rental.
In addition, users have easy access to vacation rental deals. These custom savings are created by iTrip Vacations' property managers, saving guests time and money. At any given moment, users will find 30-60 rental discounts all across the U.S. Sign up for the bi-monthly iTrip Vacations deals newsletter.
Guests also relax knowing that the secure payment platform links directly to iTrip Vacations' property management software, ensuring easy payment options and secure transactions.
"Our new iTrip Travel app offers the latest in mobile user interface and user experience technology to make not only searching for a great property easy, but also simplifies the booking process with secure payments on a mobile device," says Todd Morrison, iTrip Vacations co-founder and COO. "We even allow users to scan their credit card to add your payment information on the go."
Personal Rental Information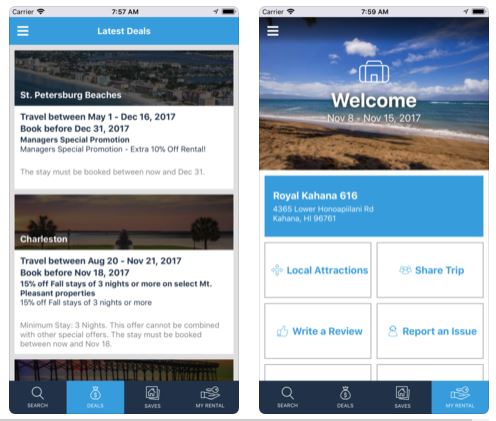 Every vacation rental guest wants quick access to the rental and property manager's information. The My Rental section allows users to view booked vacation rentals and find important information such as check-in and check-out.
"The iTrip Travel app puts users in control and places all the information they need at their fingertips," Morrison says. "On the Reservation Info screen, guests find the most commonly used items prominently displayed for easy access. These include the property's address, Wi-Fi codes and passwords, access code and Help Center links. Our Help Center provides users with fast answers to questions, including how to operate home theater systems and smart thermostats, as well as immediate access to the property manager with our exclusive guest services on-call system."
Google and Uber Integration
To provide more helpful on-location information, the iTrip Vacation app syncs with Google and Uber. The Google integration locates nearby restaurants and attractions that vacationers may enjoy. Even better, the property manager can block certain restaurants and attractions that are not highly rated, ensuring guests find the best places in the area. Those who need Uber ride-sharing services also find a link to Uber that allows them to access the app and find available drivers.
Facebook Integration
People love posting to social media and sharing their experience with friends and family. The iTrip Vacations travel app allows everyone to either sign in with their iTrip information or Facebook information. Guests can upload photos and videos directly to their page, or upload to the iTrip Vacations Facebook page.
As part of the Facebook integration, users also have the option to participate in monthly contests. The iTrip Vacations travel app contest encourages users to upload photos and videos to the company's Facebook page. When done, those users enter to win prizes.
Download the iTrip Travel app on the App Store.

← Read Previous
FlipStream App Simplifies Vacation Rental Turnover Process
Categories: holidays, itpark, Trip, vacation

Read Next →
Free Fun Program: iTrip Vacations and Xplorie Provide Activities to Guests
Categories: holidays, itpark, Trip, vacation