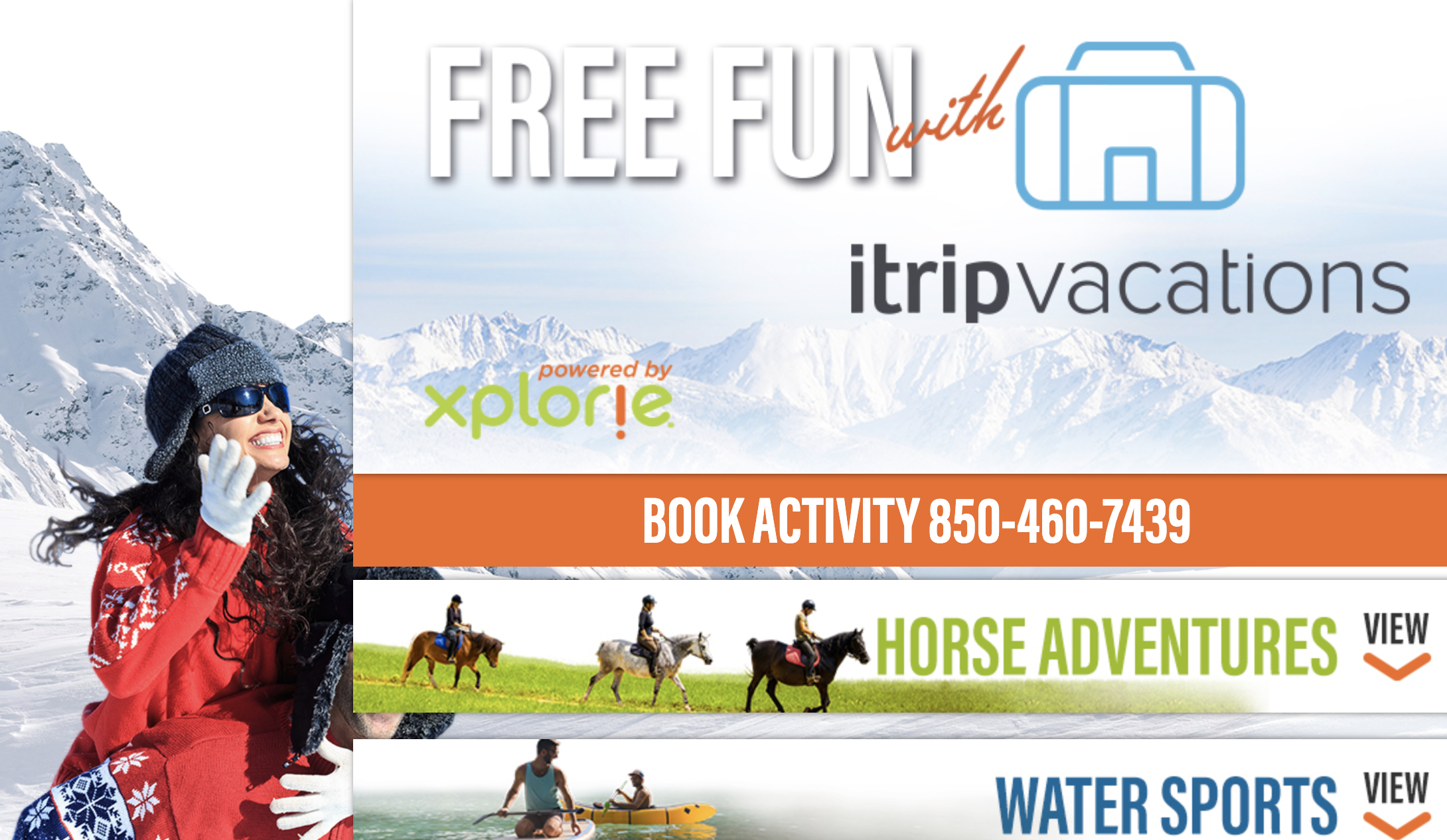 In 2016, iTrip Vacations and Xplorie partnered to bring free fun to guests who book direct with iTrip Vacations. Today, over 20 destinations offer the program, helping vacationers save as much as $400 per day on popular activities and attractions. Check out the most recent activities available here. 
Here's a detailed look at the iTrip Free Fun Program:
iTrip Free Fun Program: What Guests Receive and Where
What is Free Fun with iTrip Vacations?
The free fun program is powered by Xplorie, a company that partners with vacation rental providers to offer free activities to guests. When guests book with an Xplorie partner, they receive free daily access to popular area attractions and activities. These admissions also renew every day, so guests can experience everything at a more affordable cost.
"Xplorie has proven to be a great asset in our Smoky Mountain Market," says Dennis Stark, iTrip Vacations Gatlinburg-Pigeon Forge. "Our guests appreciate the variety of activities offered and how those activities enhance their vacation experience. The staff at Xplorie does an excellent job of taking care of our guests throughout the process."
iTrip and Xplorie Free Fun Markets
Here's a quick overview of iTrip Vacations destinations that offer Free Fun with Xplorie, and the types of activities included.
30A-South Walton, Florida: bike rentals, free food, paddleboard rentals, movie rentals and golf
Alabama Beaches: movie rentals, escape room, fishing, golf, water cruises
Austin, Texas: escape room, zoo, city tours
Bonita Springs, Florida: jet skis, parasailing, kayak rentals, escape room
Breckenridge, Colorado: mountain bike rentals, sightseeing tours, rafting, sleigh rides, ski package, escape room
Clearwater, Florida: Segway tours, dolphin cruise, bike rentals
Delaware Shores: golf, wine tasting, yoga, escape room, amusement park, bike and paddleboard rentals
Destin, Florida: Segway tours, dolphin cruise and golf
Fort Myers Beach, Florida: parasailing, paddleboard and kayak rentals, pirate cruise
Galveston, Texas: museum, Segway tour, water park
Gatlinburg and Pigeon Forge, Tennessee: laser game, dinner, magic and theatrical shows, Ferris wheel, aquarium
Keystone, Colorado: escape room, paddleboard rentals, sleigh rides
Maui, Hawaii: golf, snorkeling, sailing, whale-watching
Newport Beach, California: SUP/kayak rentals, amusement park, zoo
Ocean City, Maryland: escape room, museum, amusement and water parks
Panama City Beach, Florida: marine park, golf, museums, cruises
Park City, Utah: horseback riding, paddleboard and kayak rentals, rafting, climbing, train ride, ski package, ice skating
St. Augustine, Florida: Ripley's attractions, golf, alligator farm, pirate museum, eco tours
St. Petersburg Beaches, Florida: bike and paddleboard rentals, cruise, movies, museum
Upper Florida Keys: bike rentals, boat tour, snorkeling
How Free Fun Program Increases Property Exposure
In addition to enhancing the guest experience, iTrip's Free Fun Program helps distinguish iTrip properties from similar rentals in the area. The program provides additional perks to guests that they do not receive from other vacation rental management companies and managers. In many destinations, the Free Fun Program is part of a full-service vacation property management that iTrip Vacations offers in over 65 destinations in North America.
"Xplorie's Free Fun program gives us a unique added-value offering that helps set our properties apart from the competition," says Scott Carpenter, iTrip Vacations Newport Beach. "Our guests have the opportunity to add on some fun to an already great vacation, and this leads to better reviews and an overall rental experience that can't be beat. For us and our property owners, it helps our properties stand out, and it shows with increased bookings and revenues."
For more information or to book a vacation rental, contact an iTrip Vacations property manager.
Get an in-depth look at Xplorie and how the company has grown.